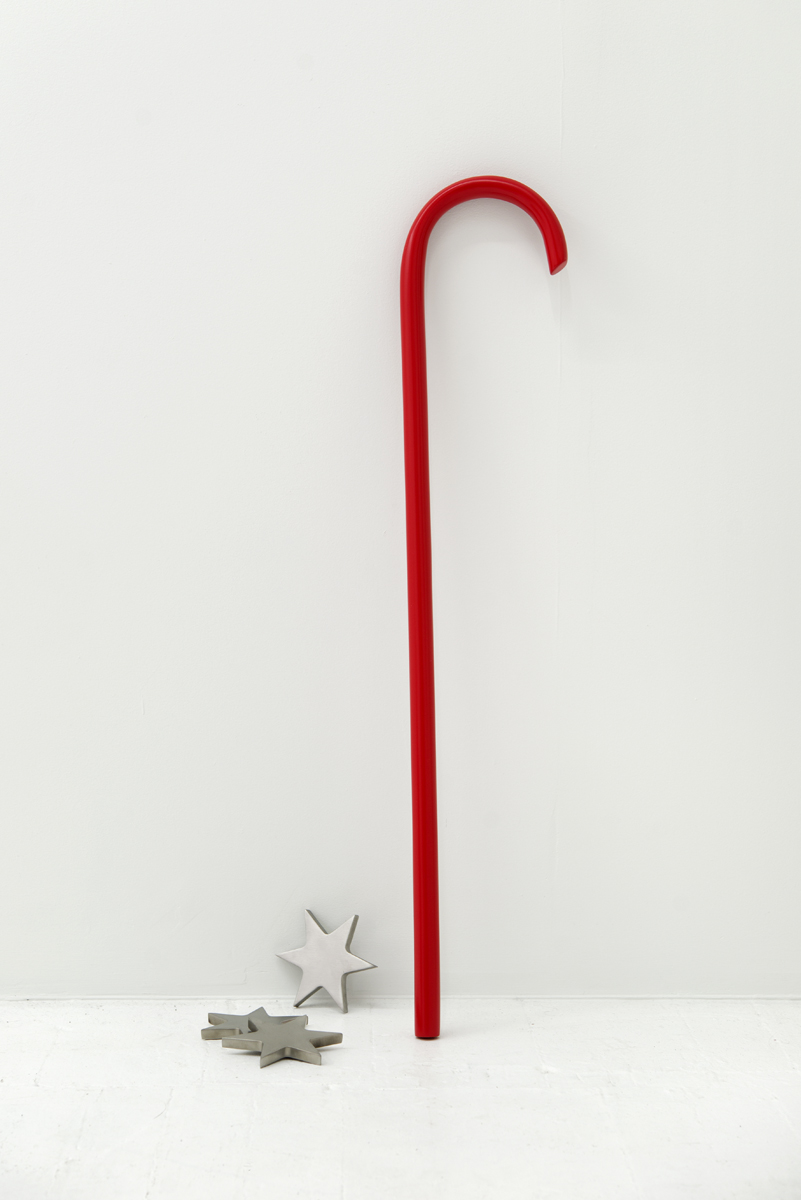 Donald Morgan
Reader's Tomb

December 16, 2016–January 17, 2017

Reader's Tomb is an exhibition comprised of paintings and sculpture, which allude to funerary artifacts from an imaginary bibliophile's tomb. These 'grave goods,' comprised of objects and text, respond to elements from the Book of the Dead, and take inspiration from James Hampton's outsider art masterpiece, The Throne of the Third Heaven of the Nations' Millennium General Assembly. In this body of work, Morgan continues his hard edge, reductive, geometric formal language, recalling his art historical forbearers as he continues his aberrant dialogue with artists such as Donald Judd, John McCracken and Richard Artschwager.

Each of the religious and magical texts within the ancient Egyptian Book of the Dead, intended to guide the deceased through the afterlife, was continually re-imagined over thousands of years. Morgan perversely furthers this process, creating his own, customized linguistic subset, made up of objects, visual spells and incantations, adapted from the Book of the Dead and other mystical sign systems. In the making and installation of this body of work, Morgan the suggests the framework of a crypt, in addition to an adherence to a programmatic, otherworldly set of guidelines.

James Hampton's thrones, crowns and various ephemera, made in preparation for the second coming of Christ, and utilized a similar pared down approach to Morgan. Hampton's works were made primarily out of cardboard and tinfoil, whereas Morgan consistently employs formica and stainless steel. Hampton was known to have kept handwritten records of his encrypted texts. These texts were penned in Hampton's own secret alphabet and scattered throughout the allegorical objects comprising his elaborate fabrication. In these ways, despite the fact that Morgan's work is an aesthetic antithesis to the elaborate and ornate, The Throne of the Third Heaven, Morgan is an off-kilter methodological cousin to Hampton. While Hampton's earnest efforts were born out of religious conviction, Morgan's work treads more skeptical, playful waters. Morgan's funerary artifacts, while referencing a minimalist visual approach, are imbedded with neoteric meanings, imbued with mysticism of a more simulated nature. Reader's Tomb reveals notions of superstition and functionality, succinctly occupying the perverse ground between belief and skepticism, seriousness and humor.

Donald Morgan was recently the subject of solo exhibitions at both the Soo Visual Arts Center, Minneapolis and Marylhurst Art Gym, Marylhurst. Group exhibitions include Traywick Contemporary, San Francisco; White Columns, New York; Gavin Brown's Enterprise, New York; Roberts & Tilton, Los Angeles; International Art Objects; Los Angeles; Karma International, Zurich; and the Palace of Fine Art; Cairo. Reviews of Morgan's work have appeared in Artforum, Art Issues, The New York Times, Los Angeles Times, The Oregonian, and the Minneapolis Star Tribune. Morgan lives and works in Eugene, and is a member of Ditch Projects.