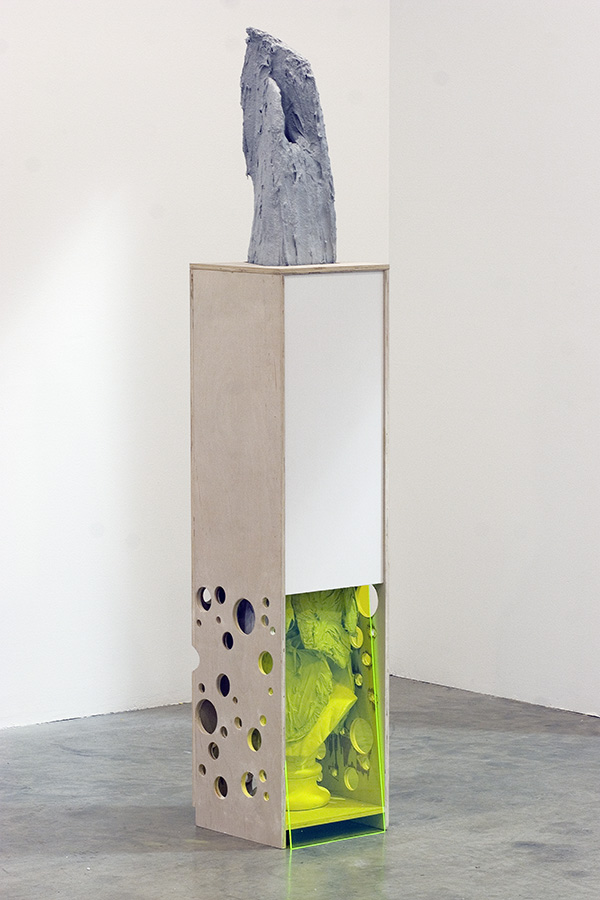 Nicholas Pittman
& Nick van Woert
New Construction

November 7–December 6, 2008


The work of Nick van Woert and Nicholas Pittman responds to changes in technology and contemporary life by use of invention rather than reflection. Akin to the work of Russian Constructivists of the early part of the 20th century, van Woert and Pittman attempt to create a sense of order within current socio-political and economic times by way of abstract works of relief construction, sculpture and painting.

Nick van Woert's intimate relationship to, and exploration of, unique raw materials provides access to the witty, altered lens through which he sees the world. van Woert creates sculptural forms by manipulating a myriad of substances - from foam peanuts, concrete and caulk to polyurethane adhesive. Each sculpture possesses an artisan touch; industrial paints, urethanes and welded metals are filtered through van Woert's hand, disconnecting original context and fusing new cultural and art historical connections.

The work of Nicholas Pittman is optical and uniform, with the artist's hand not immediately evident within each painting. In search of a psychedelia that is neither illustrative, nostalgic, nor related to the culture of drugs, an index of rudimentary geometric shapes are transliterated into canvases that 'do something instead of try to say something.'

Nick van Woert currently lives in New York, where he recently competed a residency at the Edward Albee Foundation. His work has been exhibited at Metro Gallery in Reno, Nevada, Keep Six Contemporary in Toronto, Canada, fette's Gallery in Los Angeles, California and Linda Warren Gallery in Chicago, Illinois. Nicholas Pittman returned to Portland in the summer of 2008, and his work has most recently been exhibited at Blanket Gallery and LES Gallery in Vancouver, British Columbia.