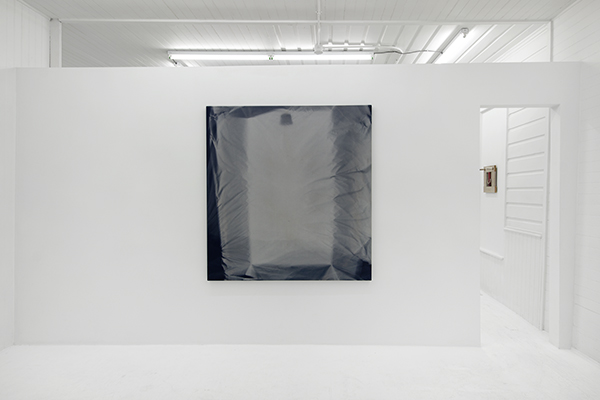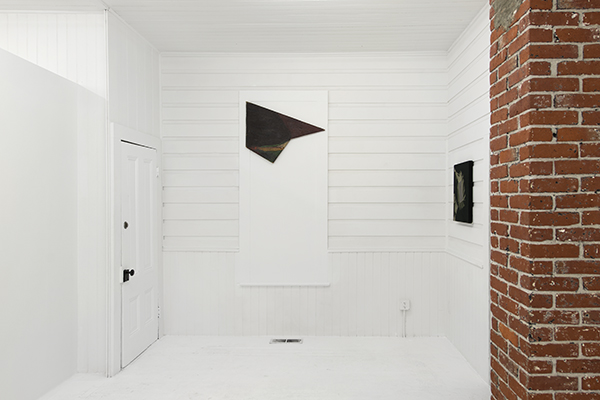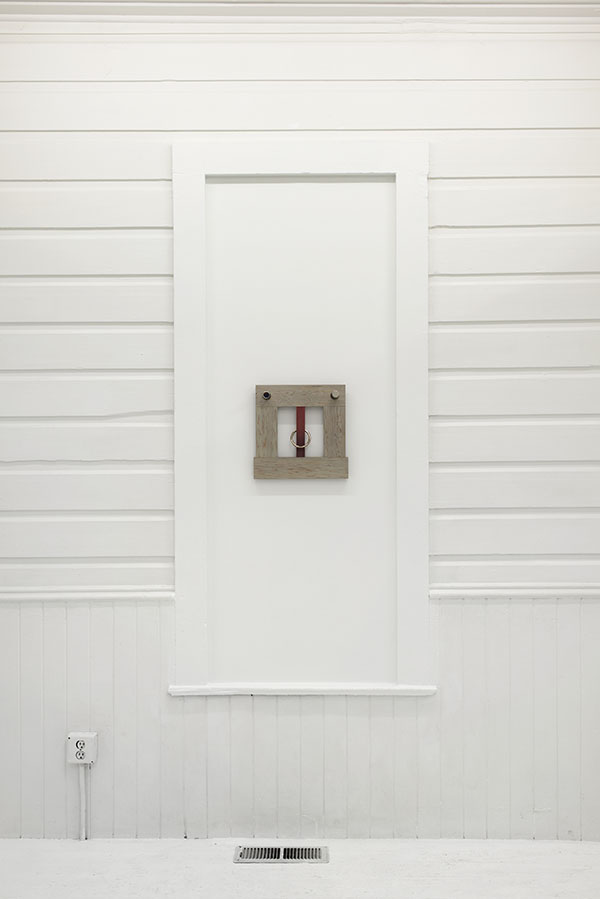 Just Now Between Positions
Colby Bird
Graham Collins
Chris Duncan
Rachel Foullon
organized by Halsey McKay

July 15–August 27, 2016


The works in the exhibition employ physical and visual openings to exploit formal and metaphorical possibilities. All four artists balance strategies of meticulous, hands-on construction with those of chance and found elements. Brought together, the group unifies in a surreal dance between representation and abstraction, image and object.

Colby Bird marries photographic works with support structure that rely on fruit, lightbulbs, plants, and other entropic elements for balance and support. To create the prints, Bird has utilized the normally discarded negative portion of pullapart instant film, which has been scanned, output as Photostatic prints, and repeatedly saturated with wood stain. The supports are intensely worked wood objects: sawed, sanded, stained, constructed, then re-sanded, re-stained, and reconstructed until their appearance becomes an elemental representation of the original object. These works, infused with entropy, act a meditation on the role of labor and reward in the pursuit of an art career, and examines the interplay and mediation of these actions with both pleasure-seeking and guilt.

Graham Collins' shaped and quilted paintings strike a balance between craftsmanship, intuitive gesture, and hyper-conceptualized methods of production. He removes the rendered pictorial elements of found student and thrift store canvases, reworks, and reimagines them into a lexicon of contemporary art. Obsessively focusing on the peripheral and often unseen aspects of painting and sculpture, these works take a holistic approach towards facture. Equal weight is given to the newly formed paintings and their bespoke support structures, framing devices and installation components which contextualize them. Individually, the works are culled from the artist's idiosyncratic network of found materials, craft traditions and historical references.

Using the sun as metaphor, inspiration and subject, Chris Duncan's works absorb the phenomenon over prolonged periods of time and employs the celestial body as fabricator. The project is an outlet for Duncan to capture, through sun bleaching, environments that are part of his life and practice. Color fabric is placed in these locales and without the use of dye, emulsion or any purposefully manipulated chemical process, imagery emerges through the ultraviolet exposure over prolonged periods of time. In this case, a skylight in his studio, and a brick. In a recent development the artist has begun to paint into these exposures, returning the works to his own creative space, and reclaiming them as authored paintings.

Rachel Foullon's Threshold series uses the simple rectangular structure of windows and doorways to reanimate our perceptions of what we recognize. Crafted to act as a structure for support and a frame for presentation, one work revolves around the form of a braid, the other a bull ring. Constructed from dozens of strands of hand-dyed cotton draw cord pulled across stained cedar frames, Foullon expands on the timeless personal hair sculpture to yield haptic associations. For the artist, the braid is a systematized style of control, a handle, a tail, a vulnerability and a permission. The bullring, polished and gleaming, pierces the wooden structure that holds it. Appearing both active and on display, the nickel-played ring and the pegs that the piece hangs from, brings a bovine visage to the geometry of the linear construction. ///////

Colby Bird was born in 1978; in Austin, Texas. He received his MFA from Rhode Island School of Design in 2004. He has had a solo exhibitions at University Galleries at Texas State University, Halsey McKay Gallery, Fitzroy and CRG, New York, NY; Lora Reynolds Gallery, Dallas, TX; Grice Bench, Los Angeles, CA. He recently exhibited at Aspen Art Museum, Arthouse, Austin, and Hagedorn Foundation, Atlanta. His work is in the collection of the Whitney Museum of American Art. Bird currently lives and works in New York.

Graham Collins was born in Washington, D.C. in 1980. He received his BFA 2003 from Corcoran College of Art in Washington and his MFA 2010 from Bard College in Annandale-on-Hudson, NY. Recent solo exhibitions have been with Halsey McKay Gallery, East Hampton, NY; Luce Gallery, Torino, Italy; Jonathan Viner Gallery, London, UK and The Journal Gallery, Brooklyn, NY. His work has been included in numerous group exhibitions at Jérôme Pauchant, Paris, France, V1 Gallery, Copenhagen, Denmark Marlborough Chelsea and Brennan and Griffin in New York, NY. Collins lives and works in New York.

Chris Duncan was born in 1974 in Perth Amboy, NJ. He holds an MFA from Stanford University and a BFA from the California College of Arts and Crafts. Duncan's work has been included in recent exhibitions at The Berkeley Art Museum, Berkeley, CA; Museum Of Modern Art, NY, New York; De Rosa Preserve, Napa, CA; Cooper Cole Gallery, Toronto, Canada; V1 Gallery, Copenhagen, Denmark; and Halsey McKay, East Hampton, USA. Duncan's work is held in the collections of the Museum Of Modern Art, New York, NY; SFMoMA, San Francisco, CA; The Kemper Art Museum, St. Louis, MO; Berkeley Art Museum, Berkeley, CA and the Arsenal, Montreal, Canada. Outside of his studio practice he organizes events and runs a small artist book press and record label called LAND AND SEA with his wife. Duncan currently lives and works in Oakland, California.

Rachel Foullon was born in 1978 in Glendale, CA. She earned her BS from New York University and MFA from Columbia University. Solo exhibitions have been at the University Art Museum, University at Albany, NY; Launch Pad, London, UK; Halsey McKay Gallery, NY; ltd los angeles, CA; Artissima19, Torino, IT, Nicelle Beauchene Gallery, NY and 55 Gansevoort, NY. Foullon has participated in recent group exhibitions at SculptureCenter, Brennan and Griffin, Wallspace, and Kate Werble Gallery in NY; Philbrook Museum of Art, Tulsa, OK and Fourteen30 Contemporary, Portland, OR among others. Awards, commissions and residencies have been granted to the artist by NYFA, Foundation for Contemporary Arts, Public Art Fund, Dieu Donne Papermill and others.

In 2011, curator Hilary Schaffner and artist Ryan Wallace, founded Halsey McKay Gallery. Located in East Hampton, NY, the gallery brings rigourous contemporary programming to the extensive artistic history of the area. From the first exhibition, the gallery has presented an eclectic and experimental range of international emerging and mid-career artists. Halsey McKay currently represents seventeen artists who are held in permanent collections including the Museum of Modern Art, NY, SF MoMA, The Whitney Museum of American Art, RISD Museum, and The Metropolitan Museum of Art. Halsey McKay Gallery is a member of NADA the New Art Dealer's Alliance.