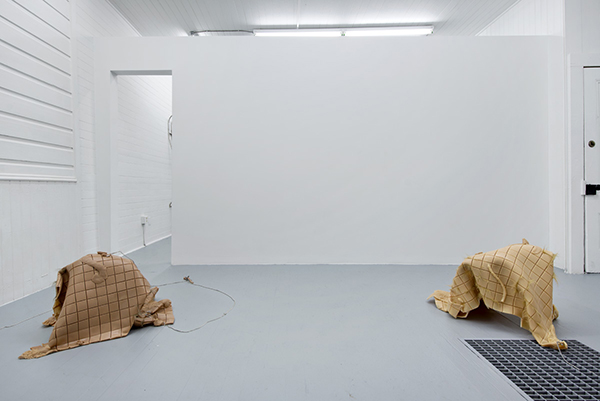 Hannah Levy
Gourmet Garden

March 19–May 6, 2017


Gourmet Garden is an exhibition of sculptures by New York-based artist Hannah Levy. Levy's sculptural work pushes lewd yet sensual humor through familiar representations, with a twist. Veiny beige cabbage leaves, asparagus limbs, and oversized jacket sleeves are both sleek and playful. Foodstuffs are replaced by plastic substitutes. Using steel, epoxy resin, plexiglas, and silicon, Levy constructs objects and armatures that question the absurdity of the human body.

Silicon floor tiles rise from the ground, becoming slouched and contorted flesh. Meanwhile sexy steel sculptures cage the gallery's architecture. Arrangements of epoxy-cast foods are tethered together with a pinching rubber sheath and chain, likening the meat of a walnut to sensitive extremities of the body. A little squeeze, a playful pinch; is it pain or is it pleasure? The works are visceral; an exaggerated bubble-wrap jacket clings to a wearer's skin like leather. Its sharp metal zipper is a flinching reminder of the tight yet flexible nature of skin. Levy's material choices create slick, sweaty surfaces which tug, droop, and bend into shape.

Despite its kinks, Levy's sculptural work is ultra-clean. Her shapes and gleaming surfaces mimic contemporary commercial design. With each skillful curve, Levy demonstrates her technical abilities as a sculptor. Industrial techniques such as steel welding, mold-making, casting, and tailoring make way for both repulsion and desire.

Hannah Levy has held solo exhibitions with Galerie Parisa Kind, Frankfurt; Allen and Eldridge at James Fuentes Gallery, New York; and Galerie Parisa Kind Deuxième Bureau, Frankfurt. She has participated in group exhibitions with 247365, New York; Carroll/Fletcher, London; Kunstverein Wiesen; Interstate Projects, Brooklyn; Rear Window, New York; Museum Für Moderne Kunst, Frankfurt; Wellwellwell, Vienna; Fiebach Minninger, Cologne; and MX Gallery, New York. Levy holds a Meisterschüler title from Städelschule, Frankfurt am Main. Levy lives and works in New York.