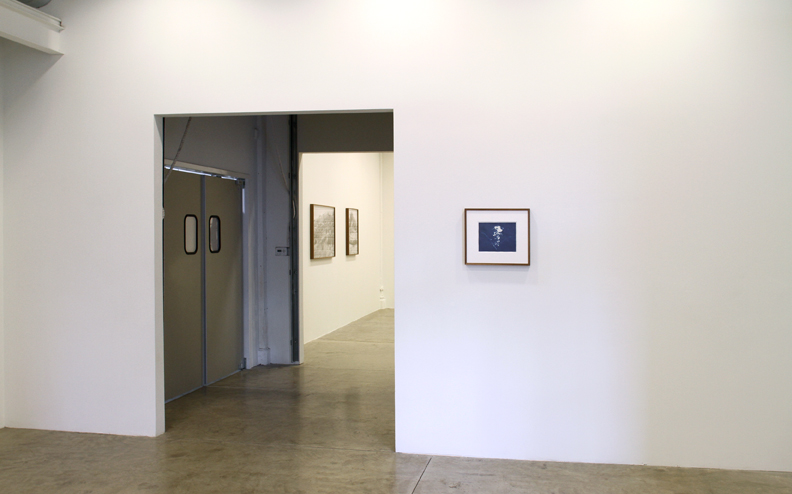 Devon Oder
Ashen Glow

October 22–November 21, 2010


The black and white prints and cyanotypes within the exhibition were inspire by ashen light - the faint glow seen emanating from the night side of Venus Oder's photographs set up moments of potentiality; abstract and emotionally heightened junctures in time. Likewise, the phenomena ashen light is predicated on the potentiality of comprehending a fathomless occurrence. The light cast from Venus' dark side is such a small amount that the person experiencing it can never be sure if they are truly seeing the cosmic light, or merely interpreting a reflection from another source.

The planetary rotations and ever-changing atmospheric conditions both play a part in the difficulty of witnessing the ashen light. The progression of natural and unending cycles are continually investigated in Oder's newest body of works; whether they ar eplanetary rotations, the ending of the seasons, or of the beginning of life and the passing of death. Oder's exhibition Ashen Glow confronts the shadow, examines the mystery of the hidden, the unknown, the cloaked and cryptic landscape.

The works within Ashen Glow present a pseudo staging of elements in an ashen, post apocalyptic, landscape where tree caves seduce and entangle, totemic monuments stand amidst the trees, dismembered parts of unknown creatures are found decaying. The works are not meant to describe a
landscape or a region; they have deceptive appearances, as in dreams where time stands still. While certain works on first glance evoke the lineage of traditional documentary or landscape photography, on further inspection, double exposures tangle and confuse the viewer's vision.

Unclear whether the subjects of these photographs are man made or natural, a Neo-Pagan conception forefront the photographs; the qualities of nature are sacred, eternal, brooding, and constantly affecting human life. The photographs investigate these perpetual cycles and allow for this affect to be explored and experienced.